New place again. So soon. Man, am I tired. I've been more in the air last two days than on ground. Well not really, but I spent quite some time in airport business lounges.
Flew in the morning of 19 March 2017. from Dammam Saudi to Doha Qatar, spent some time in Doha airport, flew to Dubai, picked up my baggage and went straight to check back in for the flight to Kuala Lumpur.
Over Doha of course, I collect miles with Qatar Airways, so always fly over Doha.
So spent some time in Dubai business lounge, went back to Doha and then took a 7 and a half hour flight to Kuala Lumpur.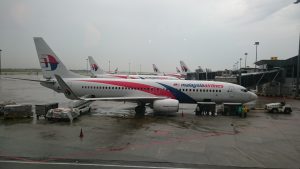 Now I'm here waiting for the final flight to Labuan, which is as I found out Googling, an island with an interesting history close to Brunei. Once I get to Labuan I'm getting a boat ride to somewhere, still don't know where.
My initial plan was to visit the Petronas towers and some other stuff before the job as I have a 6 hour layover here, but I don't want to risk any unexpected events that might interfere with the job. As this should be the last job this hitch, I think I'll just stay in Kuala Lumpur a day or two longer when the job is done, just to check it out.
What's the first thing I notice? They're driving on the wrong side of the road…. Just kidding, they're driving on the left side of the road. Right? No, left. 🙂
I'll try to take photos and update this post. If I don't fall asleep before.
---
Updating the post with the photos about a month later.